"For the heart that is free,
life is a celebration of beauty,
a festival of the spirit." --Edward Cunningham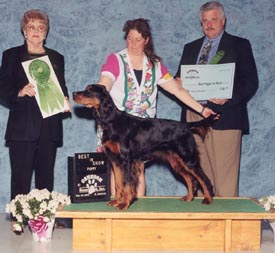 "Asti" shown winning her Best in Show Puppy Award - Oskhosh, WI
May 20, 2000 (Judge Jane Rappello - Photo by Booth)
There are many times in my life that I have said good-bye to my beloved Gordon Setters. On Friday, March 25, 2011, I had to say good-bye to Asti. The saddest part of saying good-bye to her was that I wasn't physically there with her. I was, again, on the road. I knew that she wasn't doing well, but before I left for North Carolina, she was eating, playing in the yard with Zamboni or River or Drifter and was in good spirits. I asked my dear friends, Ron and Gwen Pfeil, Alainn, to care for her while I was gone. The day before I left, Asti quit eating. As those of us who have loved dogs, that is often the sign they give us that their time here on earth is fleeting.
Before leaving for NC, I kept telling Asti to not leave me before I got home....enjoy the time with your other "parents" Ron and Gwen (we co-bred a litter out of Asti in 2004). She loved stealing bread and shredding toys while there with her litter. They loved her so very much, as did I, and that is why I felt comfortable leaving her there. If anything should happen she would be in the BEST of hands. She spent time with her husband, Aidan, and grand-daughter, Ceilidh, while instantly possessing Gwen and the couch.
I did not really say good bye to Asti. I lost Fire (Ch. Glen Oaks' Firedance o' Amethyst) in 2007 while at a dog show in Iowa and left a day early to come home to him, but did not make it. Ron and Gwen, again were there for me as they called to tell me that Fire was gone.
I kept telling Asti to hang on until I returned, but that morning of March 25, I woke up from a vivid dream that I dreamt Laurie Carlson (Lyric) told me that Asti died. It was so darn real.....I instantly told Asti that it was okay to go....and then I made the painful decision to let her go without being there. I realized that I was being selfish to ask her to stay for me....that was not fair to her.
I had friends there with me in NC...and friends with Asti and her time with Ron and Gwen was doggy hospice at its finest. Ironically, the night before, Madison Kennedy and I were talking about Asti's daughter Remy, who Madison got from me in 2003 (Dude x Asti) and Madison lost Remy (December 25, 2003). And....on the 25th of another month, I said good-bye from afar in NC. After my dream, I told Asti it was okay to go....with many tears in my eyes because she waited for me to say that....I know that she did. With my dear friends, Laurie Carlson and Gwen Pfeil there by her in Columbus, WI....Asti passed. Surrounded by my dear friends who grieved for me and so she was not alone on this part of her journey.
Asti was SO many things to me and my breeding program. I so HAVE to celebrate her life and not beat myself up for not being with her. I gave her to the best doggie hospice people that I could. Gwen said that Asti played with Aidan and Ceilidh and enjoyed hopping up on the couch and sharing bread and being hand-fed, and walks outside with Ron and Gwen. She even ran after a bird and pointed it. She had a fabulous spirit and a joy of life. She was special always.
| | |
| --- | --- |
| | My dear Asti. Looking ever so lovely and smart. |
| Asti looking quizzically at me. She was so smart that I think she thought in human words. | |
In June of 1999 in a far away from WI place called, Calgary, Alberta, Canada, Asti was born along with a brother, and two other sisters on a chilly day to Am/Can. Ch. Dixieland's Country Lace (Lacey). Asti was a Ch. Woodsmoke Classic Alibi, CD, granddaughter. "Blue" is one of my favorite boys and it was a thrill for me to own his granddaughter. Asti was sired by Can. Ch. Clansmen Cardhui (Kennet).
Les Oakes and Jim Stomp co-bred this litter and I was offered one of the girls from the litter. Everything worked out and I picked this puppy based on a couple photos that Les sent me of the girls. Asti was not the biggest. But, she has this "shape" or this "type" that said to me "pick me." So, I did.
My ex-husband, Greg DaValt and I picked her up on our way to the Nodrog Specialty in late August/early September, from the Milwaukee airport. She came into the US on Air Canada to Milwaukee. Interestingly enough, she shared the ride to Milwaukee with an Irish Setter coming in to Milwaukee who ended up winning Best of Winners and Winners Bitch - Muldoon Megan Magee. Asti was either going to be named "Smoke" or "Asti" depending upon what I thought of her when I saw her. At the Milwaukee airport she bounded out of her crate like a cork off a wine bottle, so "Asti" she became.
Asti was a gift to us from my grandmother (Nana), Alice Clark. Nana died on May 20, 1999 and later that summer we found out that we were getting a small inheritance from her estate. Greg and I decided to purchase Asti with some of those funds. Our Canadian import from Clansmen Gordon Setters, Asti wowed us all with her incredibly "quick" completion of her AKC championship including a Best Puppy in Show on May 20, 2000 in Oskhosh (WI) under Mrs. Jane Rappollo. Ironically, Asti won her Best in Show Puppy award exactly one year from Nana's death. That was so cool to me and such a sign of the strength of the spirit and people who have been important to me and my life.
| | |
| --- | --- |
| | Asti winning Winners Bitch in Indiana under Mrs. Patricia Leakey-Brenner. Asti was my first Gordon to be pointed in puppy class. |
| Asti with me in Indiana out for a walk at the showsite. | |
Asti did quite well at the 2000 GSCA National in Farmington, MN. She won 4th in a large sweepstakes class under Mrs. Mary Quaco. I was so thrilled. What was even more life-changing for me that year was that I found out, as I was looking at the catalog that Am/Can/Mex Ch. MacAlder Best For Shojin had semen available...somewhere and my mission was to find it. You see, the bitch that placed ahead of Asti was Ch. Timbaray's Full Circle (Journey) who is out of Ch. MacAlder Best For Shojin x Shojin's Skyhawk. At the moment that I saw that, I told my ex-husband that I was going to breed Asti to Chipper. That started me on a mission to find out about Chipper and then I did end up breeding Asti to Chipper only to not have it take. It opened the door for me to breed my Trial by Fire o' Amethyst, CGC (Ice) to Chipper in 2002 which produced Ch. Amethyst Black 'n Time, JH (Coal) and Ch. Amethyst's Stormin' Back 'n Time (Twister). These two dogs are two of my favorites, along with their half-sister, Ch. Kilernan's Spice o' My Life (Spice) my foundation bitch. Yes....things do happen for a reason and Asti you were a vital key to my breeding program, even if indirectly.
| | |
| --- | --- |
| Asti and Peggy at the 2000 GSCA National Specialty in Farmington, MN. Asti placed 4th in puppy sweeps 9-12 months in a large class. Mary Quaco was the judge. | |
| | "Keeper" and "Asti" in puppy sweepstakes class, GSCA 2000 National. "Keeper" is a full sister to Asti. |
Asti finished so quickly (14 months) and never grew a ton of coat, so specialing her was out of the question. Greg DaValt did some obedience work with her and I tried, somewhat unsuccessfully, to get a CD on her. She decided a couple of times that the utility ring was way more fun that the CD ring. Perhaps, she was telling me something? She never ever forgot anything we taught her. Even in her last months, I could say, "Asti front" or "Asti heel" and she'd be right there with me.
Asti's most "famous" offspring was from her litter out of Ch. Glen Oaks' Firedance of Amethyst (Fire). Her son, MacE, who was Ch. U-Ch. Amethyst's Sparkling MacEdan, RN, MH, CGC, TDI. MacE was born on February 27, 2001. MacE was that VERY special boy. He was out of my Fire and Asti. Greg and I "reserved" him for Ron and Gwen.
| | |
| --- | --- |
| | Asti and one of her puppies out of Ch. Shojin's Somewhere in Time (Dude). Dude ended up coming to live with Greg DaValt and me and is a full brother to Ch. Timbaray's Full Circle (Journey). |
| Asti and a nosey blue boy from an unidentified litter. It may be MacE from a litter out of Fire. | |
MacE was little blue boy and was such a thinker. He would just sit and survey his territory. On that cold and snowy day in April (at Fond du Lac), he went to live with two of the most wonderful people that a breeder could ever wish for. They became dear friends. They helped me through many stages of life. They co-bred a litter with me. They helped me in ways that they may not even know. They loved MacE and learned so much with him and shared it with all of us. MacE sired a few litters and left his pawprint on others' breeding programs, including my own.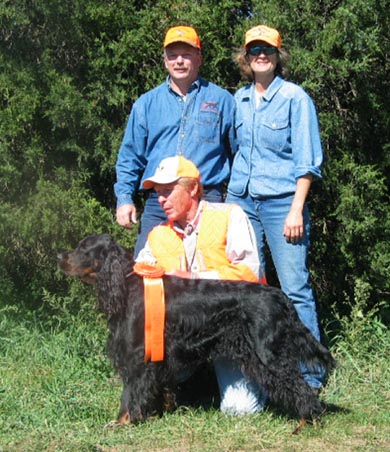 "MacE" shown winning an MH leg at the 2007 GSCA National Hunt Test.
(Judges: Robb/Jean Webb - Handler: Ron Pfeil)
When I had planned my recent trip to North Carolina for the 5-day Tar Heel Circuit, I had no idea that I would be saying good-bye to Asti. With so many people counting on me to take the trip (majors built, puppies to grade), I had to once again, ask dear friends Ron and Gwen to take care of Asti for me, with the caveat that she may not make it until I get home.
As life is often sad, it is often surprises you when you least expect it. On my way back home from NC, I stopped in to Indianapolis and stayed with friends, Gary and Michele Wood. They had a recent litter out of Sparky (MacE x Flame) x Mavis (McHale Breeding). They asked us to evaluate the puppies and assess them. Photos of them can be seen here.
Laurie Carlson (Lyric), Beth Hintz (Rocky Knoll) and Gwen Pfeil (Alainn) joined us and Pat Larson (Breacan) and I all groomed up Sparky and Mavis and graded the puppies. And in a wonderful twist of fate for both Gwen and me, two puppies followed us home. The pick bitch (pink girl) was almost a clone of her great-grandmother, Asti, that she had to come home with me. And...when checking out the purple boy (#3 born), I knew that MacE was back as well. So the two puppies, Dazzle (DaValt/Carlson) and Cash (Pfeil) will carry on in Asti's, Fire's and MacE's pawprints.
As the rawness of the spring wind blew, I buried Asti today (April 2). I picked a place near Fire, but yet someplace where the warmth of each new day and the promise of each new day would greet her. I said my official good-bye to her as the tears flowed. I know that she is in a better place, free of pain and suffering and happy. She had a great last few days with Ron and Gwen, and I know that I did the best that I could for her from afar. As I was hauling some rocks to circle her grave, I had to stop, dead in my tracks.....because I heard a dog bark and I know that it was her.
The words from this Rascal Flatts song I felt appropriate to both Asti and me and that special bond that I forged with her the past almost 12 years that I shared life with her.
"I Won't Let Go" - Rascal Flatts
It's like a storm
That cuts a path
It breaks your will
It feels like that
You think you're lost
But you're not lost on your own,
You're not alone
I will stand by you,
I will help you through
When you've done all you can do
and you can't cope
I will dry your eyes,
I will fight your fight
I will hold you tight
and I won't let go
It hurts my heart to see you cry
I know its dark this part of life
Oh it find us all and we're to small
to stop the rain
Oh but when it rains
I will stand by you,
I will help you through
When you've done all you can do
and you can't cope
I will dry your eyes,
I will fight your fight
I will hold you tight
and I won't let you fall
Don't be afraid to fall
I'm right here to catch you
I won't let you down
It won't get you down
You're gonna make it
I know you can make it
Cause I will stand by you,
I will help you through
When you've done all you can do
and you can't cope
I will dry your eyes,
I will fight your fight
I will hold you tight
and I won't let go
Oh I'm gonna hold you
and I won't let go
Won't let you go
No I won't

Sleep well, my dear Asti Rasti. You were an amazing girl. You helped me to grow and to learn to be who I am today. You journeyed with me from puppy hood to motherhood to old age....and you did it with such style and grace. Your children, grandchildren and great-grandchildren will live on in you always.
Thank you for the legacy you left me. I so loved you, Asti. May you run forever free and cruise counters for bread!!
Love,
Peggy, Twister, Drifter, Zamboni, Crescent and Dazzle