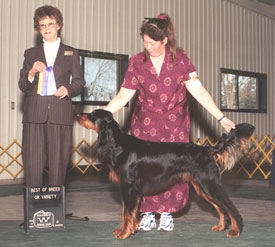 Amethyst's Jazzy Aidan, JH, CGC, TDI
(Amethyst's Black 'n' Basic Jazz x Amethyst's Firelight o' Life)
February 19, 2000
AKC Number: SN721605/03

Breeders: Peggy and Greg DaValt
Owners: Ron and Gwen Pfeil
Aidan is a puppy that we bred that we have enjoyed showing (conformation) for his owners, Ron and Gwen Pfeil. However, Aidan has earned 3 other titles that they have put on him in the fall of 2001. Aidan currently has 16 points and a major and is looking to finish his AKC championship soon. He earned a Best of Breed from the puppy class over two nationally-ranked male specials last year (a day before his 1-year birthday). We are quite proud of this boy in that he is a grandson of four of our very favorites: Knight, Spice, Fire and Storm. Watch for him!!

Photo by Booth Photography.