Life ain't always beautiful
Sometimes it's just plain hard
Life can knock you down, it can break your heart

No,life aint always beautiful
Tears will fall sometimes

Some days I miss your smile
I get tired of walkin' all these lonely miles

No, life aint always beautiful
But I know I'll be fine
But its a beautiful ride
What a beautiful ride

Gary Allen - "Life Ain't Always Beautiful"
In the wee hours of January 22, 2006, I received a phone call from Donna DaValt. When I saw the caller ID on my phone, my instant thought was something happened to Thunder, who is wintering with Greg and Donna in Oklahoma. However, that was not the case. Donna told me that Dude had bloated and was in surgery and had been for over 2.5 hours. During the course of the next 48 hours, I realized that I may never see that happy-go-lucky dog again.
He was that sometimes obnoxious, sweet, albeit spoiled rotten dog, who came to live with Amethyst Gordon Setters in August 2001. He was my dream for my breeding program (to be able to tap back into Chipper), but he was truly Greg's dog. And...Greg was Dude's human. There was nothing that would ever change that....
| | |
| --- | --- |
| Dude's favorite place in Greg's RV. | |
On January 23, 2006, Greg called me to tell me that Dude did not make it through a second surgery and that he died. While I know how I felt, I know that Greg and Donna were equally as devastated with the loss of this wonderful dog.
He was a Chipper puppy. He was one of three pups born in the summer of 1999 to Shojin's Skyhawk. The first successful frozen semen breeding to Chipper.
In May of 2005, after traveling many many miles with Greg DaValt and with me, he ended up a Champion. He had so many champion qualities...but his biggest and unique trait was that when anyone of our friends or puppy people would see him, they'd say, "I want a dog just like him." How fortunate for us that he has offspring and he has grandkids, too, now who all have a piece of him and that wonderful fun-lovin' temperament.
Dude had his moments....and he always had to be with Greg or at least "see" him. I recall that one of my favorite phrases, when Dude lived with me for a time while I was finishing his championship, was..."Dude, go lie down." He was one-in-a-million that was for sure.
So to Miles, Angus, Keno, Elsa, Bailey (Peltsu), Will, Ziggy, Indy, Kelsey, his children who are being shown or will be shown, or hunted, thank you because you have that indomitable spirit of Dude in you. To all of the people who have used Dude at stud, we thank you. And...to Sizzle, one of Dude's granddaughters, who has made me realize that he will always be felt in the generations yet to come.
And....since Dude was Greg's friend...it's only appropriate that he be remembered as that.
Carole King wrote a song years ago entitled, "You've Got a Friend." It's playing in the background of this page (the music performed by Greg for his buddy).
You've Got a Friend - Carole King
When you're down and troubled, and you need some love and care,
and nothing is going right.

Close your eyes and think of me and soon I will be there,
to brighten up even your darkest night.
You just call out my name and you know
where ever I am I'll come running to see you again.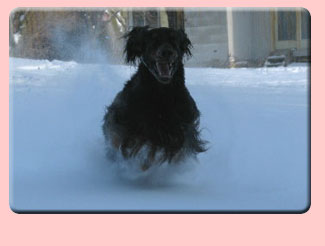 Winter spring, summer or fall, all you have to do is call and I'll be right there.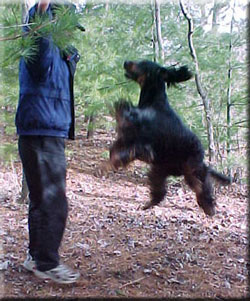 You've got a friend.
So, to Greg and Donna DaValt, you have my sincere sympathy at the loss of your beloved friend.
Rest well, Sweet Dude-a-butt..... I know that now your spirit can truly fly and be free at the Bridge....and your infectious woofs...will make anyone smile. Thank you, my friend, for all the love you gave us in return.
Love,
Peggy, Fire, Ice, Asti, Twister and Sizzle