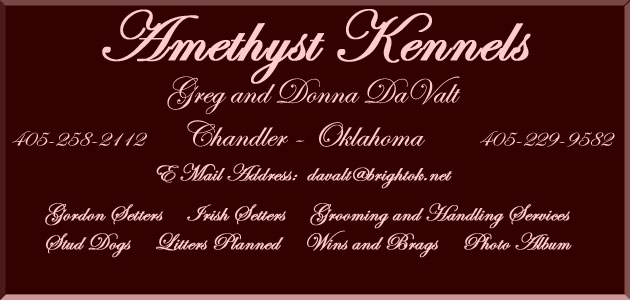 Click here to view our puppy cam
Puppy Cam hours are evenings 6 pm - 10 pm (Central Standard Time) and occasionally during the day.

Updated Pictures - Litter # 1 -
Gordon Setter - Litter # 2 - Due May 12, 2007
Also Litters Planned for Fall 2007

Click here for litter information and to see pictures of the pups

Congratulations to Amethyst's Sooner or Later a Martini (Martini/DaValt)
on her 3-point major from the 9-12 month class at the Wisconsin KC Show - March 3, 2007.

Congratulations to "River" who is now AKC Ch. Multi-BIS UKC Ch. Glen Oak's River Breeze Shiraz.
River won Back-to-back Best in Shows at UKC shows in Ixonia, WI - February 10-11, 2007.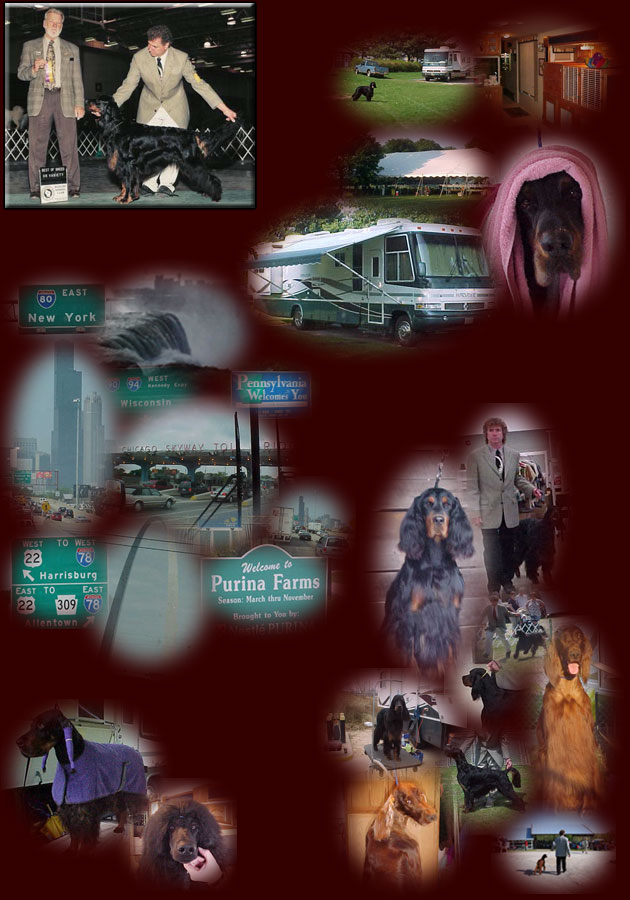 Yes, We do have winter in Oklahoma. On January 10th, 2006 we had
24 hours of winter. Of course on January 11th, it was sunny and
70 degrees again, but hey, you take what you can get.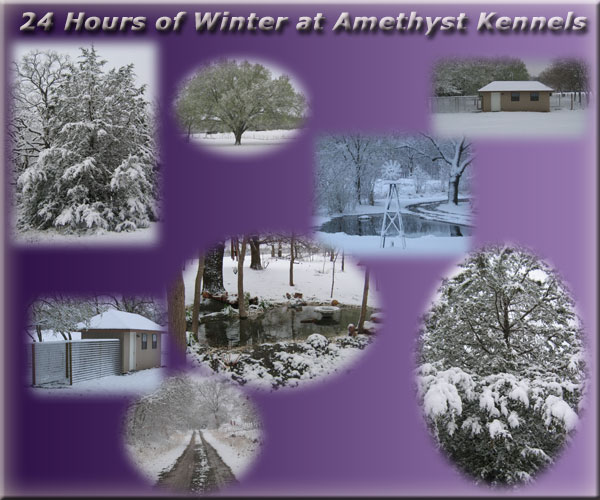 In loving memory of Ch. Amethyst's Music o' the Knight (Thunder)
9/1/1992 to 4/14/2006

In loving memory of Ch. Shojin's Somewhere In Time (The Dude)
7/26/1999 to 1/23/2006
In loving memory of MacAlder J'Amethyst Royale (Storm)
9/18/1991 to 4/27/2005
In loving memory of Ch. Lord McKiggan of Amethyst, CGC (Kiggan)
12/24/1988 to 4/14/2003



For additional information regarding Gordon Setters, Irish Setters, or just Dogs and Dog Shows in general, try these Sites listed below.


Amethyst Gordon Setters

Badgerland Gordon Setter Club

Gordon Setter Club of America, Inc.

Irish Setter Club of America, Inc.

American Kennel Club

Roy Jones Dog Shows

Jack Onofrio Dog Shows

MB-F, Inc. Dog Shows

Background music performed by Greg DaValt
Last updated: Sunday, March 11, 2007